Management Metrics for Learn Manufacturing Companies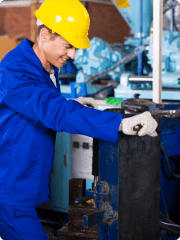 Provideam OEE monitoring software has been designed to answer the needs of manufacturing businesses to monitor and analyse the productivity of production machines and lines.
Provideam supports modern management philosophies such as Total Productive Maintenance (TPM), Six Sigma and Lean Manufacturing.
By highlighting the causes of loss, Provideam helps you reduce these losses, increase productivity and boost profits.
Our goal is to provide you with a comprehensive Overall Equipment Effectiveness (OEE) monitoring solution to meet your on-going requirements. Provideam can be used to monitor one machine or hundred's of machines. If you start with one machine today it is very easy to roll-out across your plant tomorrow.
We developed the original Provideam solution more than fifteen years ago. Since then we have continuously refined and improved it. Provideam has been adopted by companies of all sizes, including many well-known names. It is a comprehensive, all-in-one solution which captures and analyses data from almost all types of industrial equipment in real-time.