Provideam
Management Metrics for Lean Manufacturing Companies
Increased productivity and profits
---
First and foremost, Provideam gives you the tools to reduce costs and to operate equipment more effectively, both now and in the future. Typically, a company using the Provideam productivity monitoring system will experience productivity benefits of 5 - 30% - and a corresponding improvement in its bottom line.
Accurate, impartial data. Actionable
---
Provideam solutions give you accurate, up-to-date and impartial data on production performance, together with the tailored reports you need. We can also quickly train your staff to interpret and act on this data. Not only can you tackle losses, but you can continuously improve the effectiveness of your production equipment.
Minimal cost of entry
---
Provideam is scaleable from one machine to hundreds. For a minimal investment it can be hooked up to one machine, usually within a day, and then rolled out once the benefits are clear. Even better, we offer a free 30 day evaluation - so you can try it out at no cost.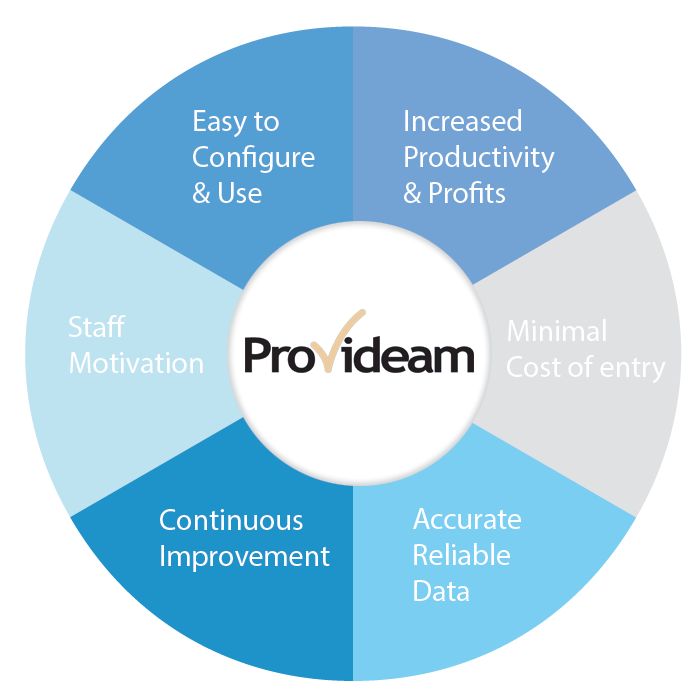 Easy to use
---
The Provideam configuration is very straightforward to understand and modify to your productivity monitoring requirements. You'll soon find it becomes easy to analyse the data and apply it to your needs, continually improving your processes.
Increases motivation
---
Real-time metrics shown on a live display is an excellent tool for motivating staff to exceed targets.
Easy access to operational metrics
---
You'll enjoy easy access to operational performance metrics through a range of views and reports. Even more conveniently, you can receive scheduled reports by email, within minutes of a shift ending.
Impartial data
---
All staff are presented with the same impartial data. This encourages an open discussion on the real reasons behind productivity problems, rather then an argument as to the validity of the data.
Trend analysis
---
Several years of historical data can be stored in the Provideam database, and you can generate before/after analyses for changes in the process, materials and so on, making comparisons easy.
Parameter comparison
---
Process engineers can use Provideam to highlight the operational performance variances between periods, such as day shifts and night shifts, and objects, such as different parts or machines. This makes it simple to assess the worst and best performing machines and processes.
Innovation support
---
Because you can identify and quantify the real causes of loss, Provideam software gives you the tools to establish the business case for upgrading worn out or badly engineered equipment, or for improving processes.
Improved strategic positioning
---
By using Provideam OEE monitoring to tackle your fixed costs now, you can survive reduced demand and tighter margins your business may experiencing from time to time. As economic conditions improve, you'll be far better placed than your competitors to take advantage.
Language/dictionary flexibility
---
Each aspect of the software is fully translatable into any language, should you require it - please contact us with your requirements. In addition, each expression used is configurable by the end user - so you can use whichever terms apply to your business.
Full security
---
Provideam OEE monitoring software is password protected. In addition, you can customise user access levels, allowing only approved end users to access or modify chosen areas.