We are delighted to announce the release of Provideam v4.6. This new release incorporates many powerful features to help simplify the capture and analysis of OEE/Productivity Data.
Since our last post some of the features we've added include;
OEE Monitoring Features
Plant Roll-up Report. We have now added a Plant Roll-up Report option to the Provideam Report Wizard. This report allows you to roll-up several Machines/Areas in to one overall report.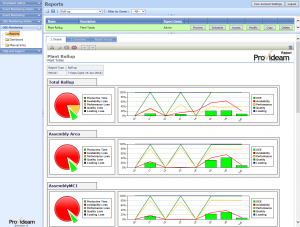 Live Display – AndOn Table. We have updated our Live View Current Status View to appear more as an AndOn table. The new current status view gives a configurable, color coded display of the status of the selected Machines. When the Machine is stopped for a Downtime it will be displayed in Red, when running at or above Target it will be displayed in Green, running below Target in Yellow, etc.

Database
Indexing. We have redesigned our Database Indexing to significantly boost performance of many long running report queries.
If you have any queries, on these issues, please do not hesitate to contact us at [email protected]
June 26, 2014
Paul Mitchell
Release