We are delighted to announce the release of Provideam v4.5. This new release incorporates many powerful features to help simplify the capture and analysis of OEE/Productivity Data.
Since our last post some of the features we've added include;
OEE Monitoring Features
Day Light Saving. Included code to track Day Light Saving. In future if the local time leaps forward by 1 hour due to DST, then the hour will be skipped in Provideam. If the local time falls back by 1 hour, the data will be logged twice for the same hour.
Loss Reports. Added parameter to Report Wizard OEE Loss Reports to allow user to restrict the number of Losses returned on a Pareto Chart to the first X Losses.
TimeBar Chart. Added TimeBar Chart to the Downtime Log on the Dashboard, and to the Mode Log Report in Report Wizard.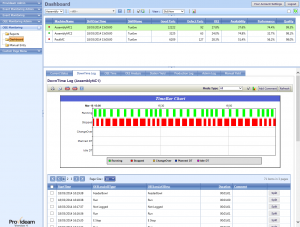 General Features
DB Management. Added feature to the DBMgt application to allow the local Administrator to delete old data from the Event and OEE Monitoring Modules. In addition we have included an option to automatically compress your database and upload to the Provideam website for analysis by our engineers. In the unlikely event that you experience a problem which can't be resolved remotely this provides you with an easy, secure method of passing us your database.
Please contact us if you have any queries on any of these items at [email protected]
March 28, 2014
Paul Mitchell
Release