Provideam v4.10 is now available for download. In this release we have begun a process of re-designing the Plan Adherence Module. Many of our customers have suggested enhancements and we have tried to capture many of them here. We have also added a new drill down feature to our OEE Reports.
A summary of new features;
OEE Report Wizard Features:
Report Drilldown. It is now possible to drill down on Period Fields in an OEE Report. For example if the report contained a record for every day in a month, by clicking on the control beside a particular month you would have the option to display that day's data by Shift or Hour.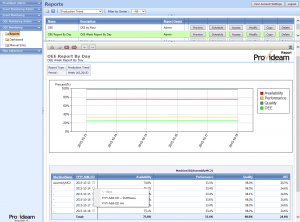 Custom Function. It is also possible to include Parameterised Functions in a Custom Function. This will enable our users to generate complex functions based on selected Modes or Counts.
Plan Adherence Features:
Planned Start Date. Plan Adherence Lots are now entered by expected/planned start date. In previous versions the Lot start date was taken to be the end date of the previous Lot. Now it is a defined calendar date.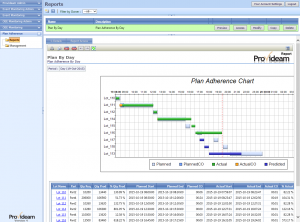 Change Over Time. It is now possible to add planned Change Over Time to the Planned Lot. The Planned and Actual Change Over Times will be displayed on the Plan Adherence Reports.
Planned v Actual. Plan Adherence Report now display Planned Lots versus Actual Lots. Planned Lot data is anchored to the actual calendar date the Lot was expected to be produced. Actual Lot data is anchored to the date the Lot was actually produced.
General Improvements:
System Reports. A series of system reports has been added to the Provideam Administration sections. These reports are to help administrators manage Provideam effectively.
Filter Controls. Filter controls are no longer case sensitive. It is no longer necessary to enter the exact character case to locate matches.
October 30, 2015
Paul Mitchell
Release