Introduction:
DTL Systems have developed a solution to greatly enhance your ability to monitor and control Work-In-Progress (WIP). This simple to use system offers near real-time visibility on the flow of Work Orders between the time the Work Order is created and the time the finished Items arrive at the warehouse. The system is non-invasive and can be implemented in less then 10 days.
Implementation of this solution facilitates better Lead-Time management leading to reduced inventory and a rapid return on investment. Flexible reporting options help to promote a better deployment of personnel.
Millipore Ireland is currently piloting this unique solution in the expectation of driving significant reductions in, Lead-Times and Inventory, and a substantial increase in On Time Shipments. In addition it is anticipated that there will be a reduction in administrative tasks related to the distribution and scheduling of Work Orders.
The Environment:
Manufacturing companies constantly strive to reduce production Lead-Times and Inventory levels. Key Performance Indicators, such as OTS (On Time Shipment) help to gauge how well they are performing. The adage, "You Can't Manage What You Don't Measure" is an essential truth of Operations Management. To improve performance it is essential to monitor how well the company meets its KPI targets.
Depending on the Supply Chain configuration (Make To Order / Make To Stock), Customer Sales Orders and/or Safety Stock Levels can trigger the creation of Work Orders. Work Orders (also referred to as Discrete Jobs or Shop Orders) are instructions to the Shop Floor to manufacture specific quantities of Items in a defined sequence. Planning Departments generate these Work Orders to optimise the balance between Inventory, Work-In-Progress, and On-Time-Shipments. From the time a Work Order (Discrete Job / DJ) is signalled to the Shop Floor, to the time the finished Items arrive in the Warehouse, the Work Order will have passed through many different functional areas. It can often be the case that the actual time spent in production is only small component of the overall product lead-time. Other activities, such as Kitting, Set-up, QA, Sterilisation, Packing, etc., may have a far greater impact on the time it takes to complete a Work Order. Provideam's Shop Floor Execution System helps to expose time "wasted" on non value-added activities.

The Planner typically works with an ERP system from a major vendor such as Oracle, SAP, JD Edwards, Microsoft etc. to develop Detailed and Master Production Plans. The Detailed Plans, containing a list of the Work Orders required in the short-term, are issued to the Shop Floor for manufacture. While ERP systems are extremely powerful, they tend not to be used widely on the Shop Floor –due to the unique special requirements of each department the integration can be prohibitively expensive. In consequence, until the finished product arrives at the Finish Goods Warehouse, at which point it will be logged in to the ERP system, Planning / Operations may have very little information about the status of the Work Order. Hence it is difficult to assess the impact of "floating-bottle-necks? in the manufacturing processes.

A thorough knowledge of manufacturing processes is essential to ensure an optimal configuration of Work Orders. In a well run plant each department will monitor how well it is performing. However, it is quite common to find a range of different systems in use in each area – from paper-based manual systems to spread-sheets to custom built software applications – all of which have been developed over time and which suit the requirements of each individual area. In this ad-hoc monitoring environment it is very difficult to develop a holistic, coherent assessment of how the plant is performing. In addition there are issues of data integrity and data redundancy which need to be considered.

The Objective:
Our goal was to develop a solution, suitable for use on the Shop Floor, which would be an essential tool both for Planning and Operations. Operations personnel with experience of ERP implementation will know that it can be a difficult, time consuming and expensive undertaking – with no guarantee of ultimate success. With this in mind we have develop a solution which is;
Easy to install (less then 10days)
Easy to deploy (less than 1 day), and
Easy to use (intuitive).
The solution is practically non-invasive with minimal interaction of Shop Floor personnel. Through the use of Bar Code Scanning we enable, in a very simple way, the Shop Floor Operator to timestamp each Work Order as it passes through the key staging points in the manufacturing process.
The solution offers a simple status view of all the active Work Orders. In this way the Production Supervisor has a quick and easy method of finding the relevant details on active Work Orders, while at the same time providing an in depth insight into the movement of Work Orders through the manufacturing environment – both on average and in real-time.
Flexible, ad-hoc, reporting, with drill-down capabilities, on Lead-Times and Outstanding Jobs is also included.
The Solution:
Our solution was achieved by providing a central data resource with an easy to use interface which tracks the flow of Work Orders from Planning through the various phases of production and quality inspection. This central data resource provides near real-time visibility of the status of each Work Order and can be available to any authorised user from Planning, Production, Quality, Operations etc. Provideam is a highly secure system. Only users that have been provided with a username and password can access Provideam data.
The Provideam Shop Floor Execution System provides the following functions;
Import Work Orders from an ERP System (eg Oracle or SAP) directly or via a Business Objects derived Excel report.
Import Item configuration from ERP
Provide a customisable "Active Work Order Status? form which provides a central planning data resource and enables all relevant departments to see the status of all active Work Orders. Flexible, ad-hoc, filters allow the user to isolate the specific data they require.
Provide a form to enable Production Department to set production status flags. For example "Label Printing?
Provide the ability to timestamp Work Orders at key staging points by scanning the Bar Code on the Work Order Traveller Documents / Labels.
Provide Lead-Time Variance Reports which indicate the time spent by Work Order in each phase.
Provide Dashboard functionality which enables the user to drill-down from Plant to Department to Cell\Work Center.
Benefits:
Greater global real-time visibility of each Work Order leads to better management of the Work Order. It also results in the identification and resolution of issues before significant Lead-Time delays occur.
Logging the flow of each Work Order facilitates an analysis of how effectively the process is currently working. This facilitates improvement activity to reduce lead-times.
Enhanced cross-functional process knowledge drives a reduction in Lead-Times and Inventory Levels. Thus leading to a rapid return on investment.
Traffic Light Reports and use of color on Dashboards supports Kanban methods.
Narrowing of the knowledge gap between the requirements of each of the relevant departments, Planning, Production & Quality leads to a better understand of the needs of each department and consequently an improved collaborative working method.
Facilitates up front planning of resources based on schedule.
Flexible reporting provides the data for better use of production personnel.
Can help with Rolls and Responsibilities, as all interaction with the system is linked to the user. Hence you can determine the individual scanning each Work Order.
Optional integration with Provideam?s leading OEE / Downtime Monitoring and Event Logging Solution.
Processes:
Data Import:
DTL install a script which running on an automatic schedule (once per hour or less) imports Work Order data from the ERP (spread-sheet, database etc). The script inserts new Orders and updates changes to existing Work Orders to the Provideam Database.
A similar script imports Item configuration data from the ERP. The script inserts new Items and updates changes to existing Items to the Provideam Database.
Shop Floor Execution Data Lookup:
An "Active Work Orders Status" form is available to all authorised Provideam Users. It is possible for each user to customise the view and filter each of the columns of the form.
By clicking on a specific Order the form will expand to show a log of time spent, by the selected Work Order, in each phase.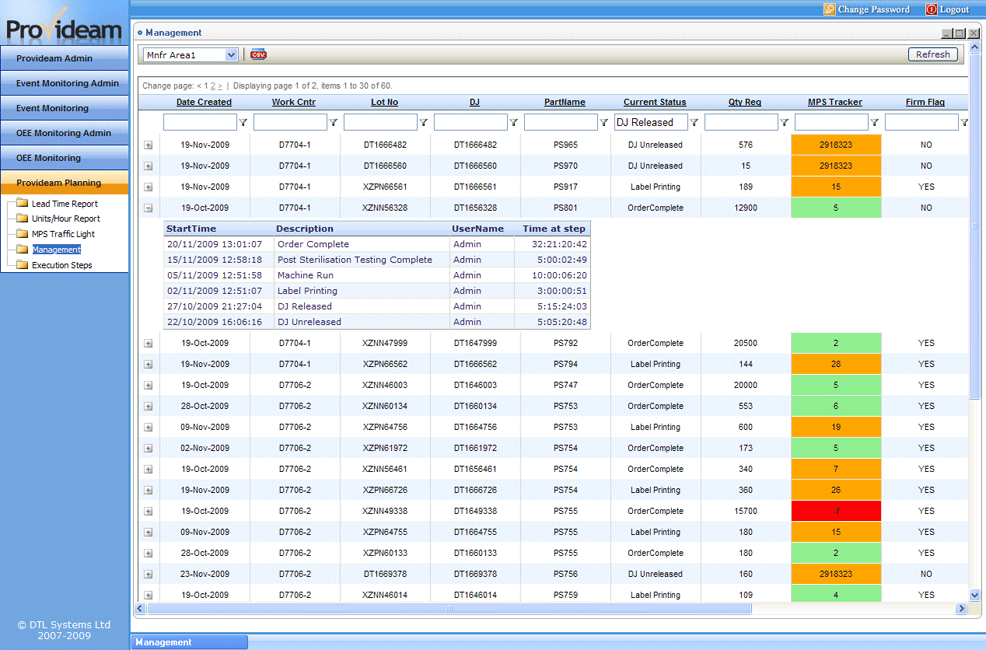 Fig: Active Work Order Management Form showing Execution Steps

Shop Floor Timestamping:
Bar Code Scanning (or keyboard entry) can be used to log Work Orders as they arrive at key staging points – for example "QA Inspection". The user simply opens the appropriate form on Provideam and then scans the Work Order Bar Code on the Label or Traveller document. This flags that the Lot has reached this staging point.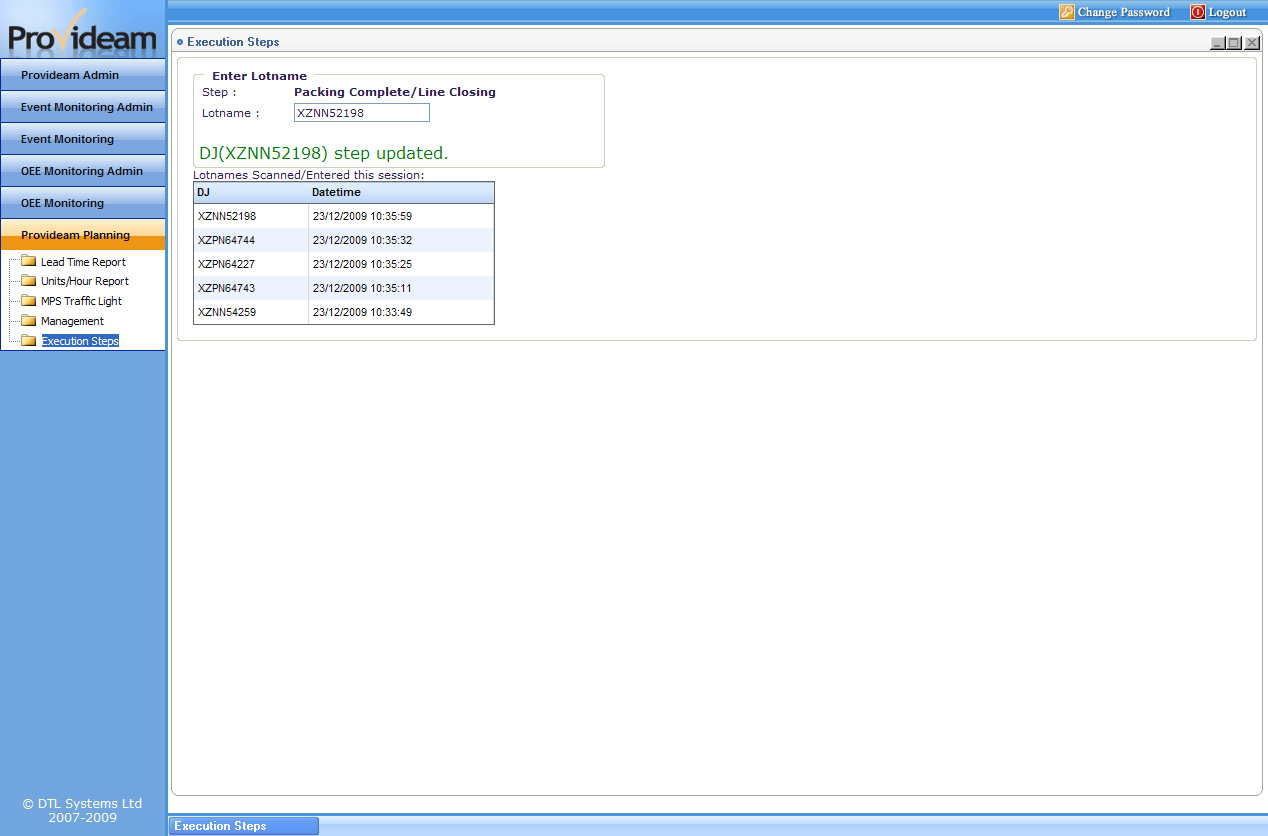 Fig: Active Work Order Management Form showing Execution Steps
Reporting:
Various reports are provided. The key report is the "Lead-Time Variance? report which shows the variability of Lead-Times between Work Orders for Items with the same "Fixed Lead-Time?. This report also shows the average time spent at each stage of the manufacturing process.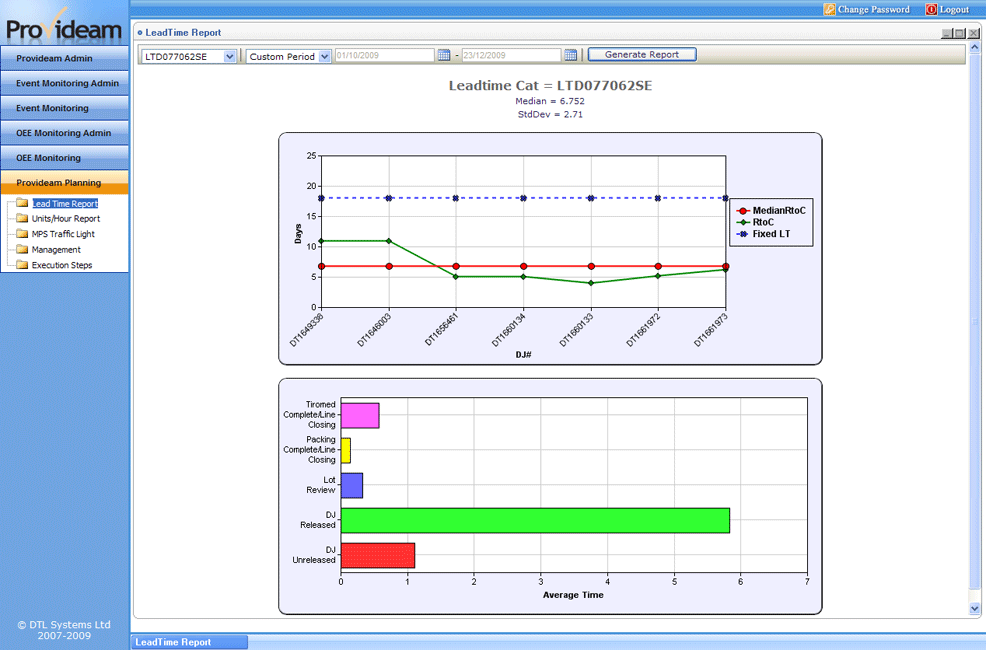 Fig: Sample Lead-Time Variance Report

Extra Features:
Additional features can be provided including customised reports and the ability to feed data back to the ERP system. Feedback to the ERP system can help support "Kitting, "Backflushing", "Auto Charging/Paypoints", "Outside Processing" etc.
Conclusion:
DTL Systems is a leading provider of Manufacturing Productivity Solutions. For a free consultation / demonstration please contact [email protected].
For further information check out www.provideam.com