In our last post we described the OEE framework and how OEE is calculated from the recorded downtime and yield values. In this post we want to show how Provideam provides a powerful way of storing, analysing and reporting on this recorded data.
There are three main aspects to Provideam
A database for efficient data storage
Business logic for analysing the raw data
An intranet webased user interface for developing customisable reports
Storing your data in a Provideam, enterprise-class database based solution has many advantages over a spreadsheet or paper based reporting system;
the data is stored securely
the data is available to multiple simultaneous users
the data is easily analysed over different time periods
the data is easily cross-referenced to pick up on issues related to specific parts, tools etc.
business rules are protected and not liable to user error
reports are consistent and can be delivered automatically by email
Provideam includes a Manual Entry user interface to facilitate the collection of downtime and yield data as described above. To get started you simply need to;
install Provideam
create a machine profile which describes the downtime modes and yield values
define the shift cycle which defines the start and end of each shift
We won't go in to too much detail about configuring machines here save to say it's easy and quick. Below are a few screen shots to give you the idea;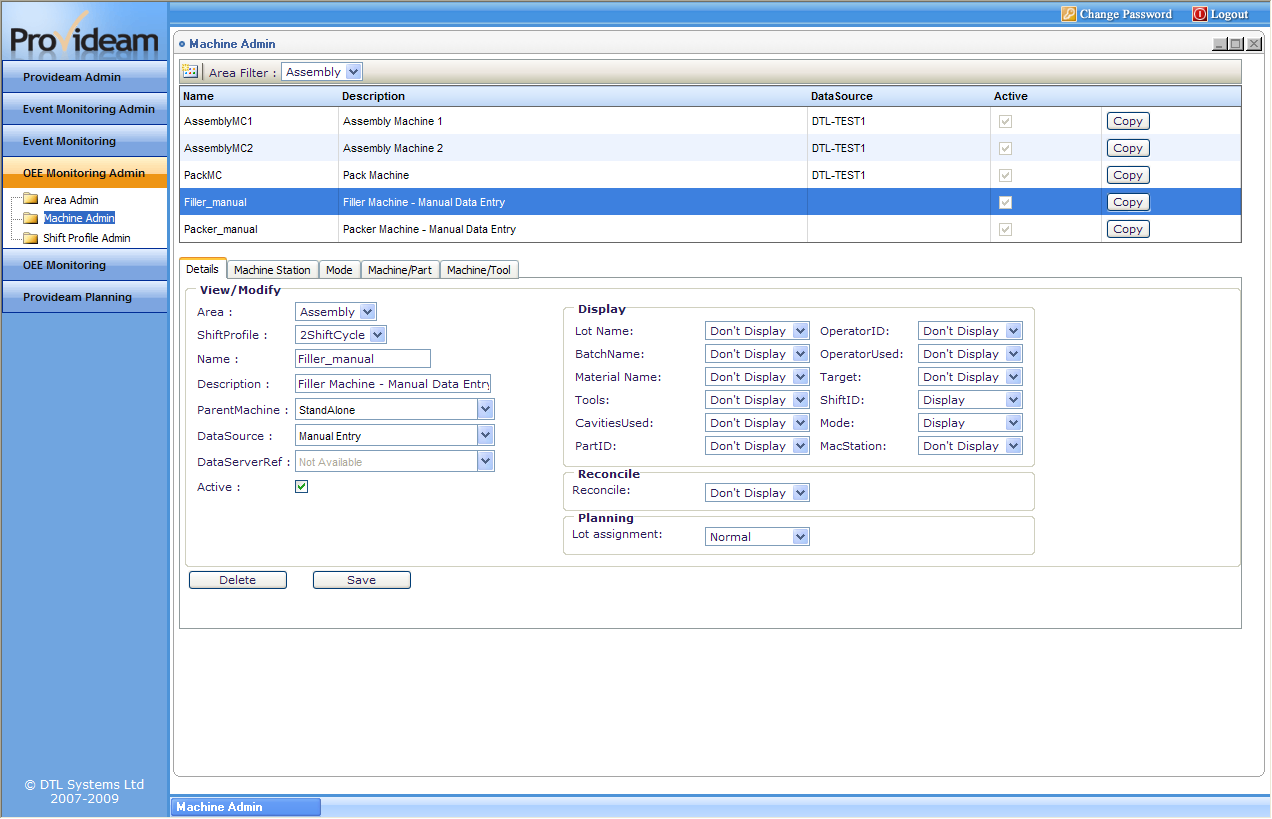 Fig: Filler Machine Properties
In the figure above you will see the Filler Machine properties. The properties indicate that the DataSource is 'Manual Entry', that we will use a 2 Shift Cycle and that we will not display advanced items such as Lot, Part, Tool etc. If the DataSource was 'automatic' it would indicate that data is being collected automatically from the machine.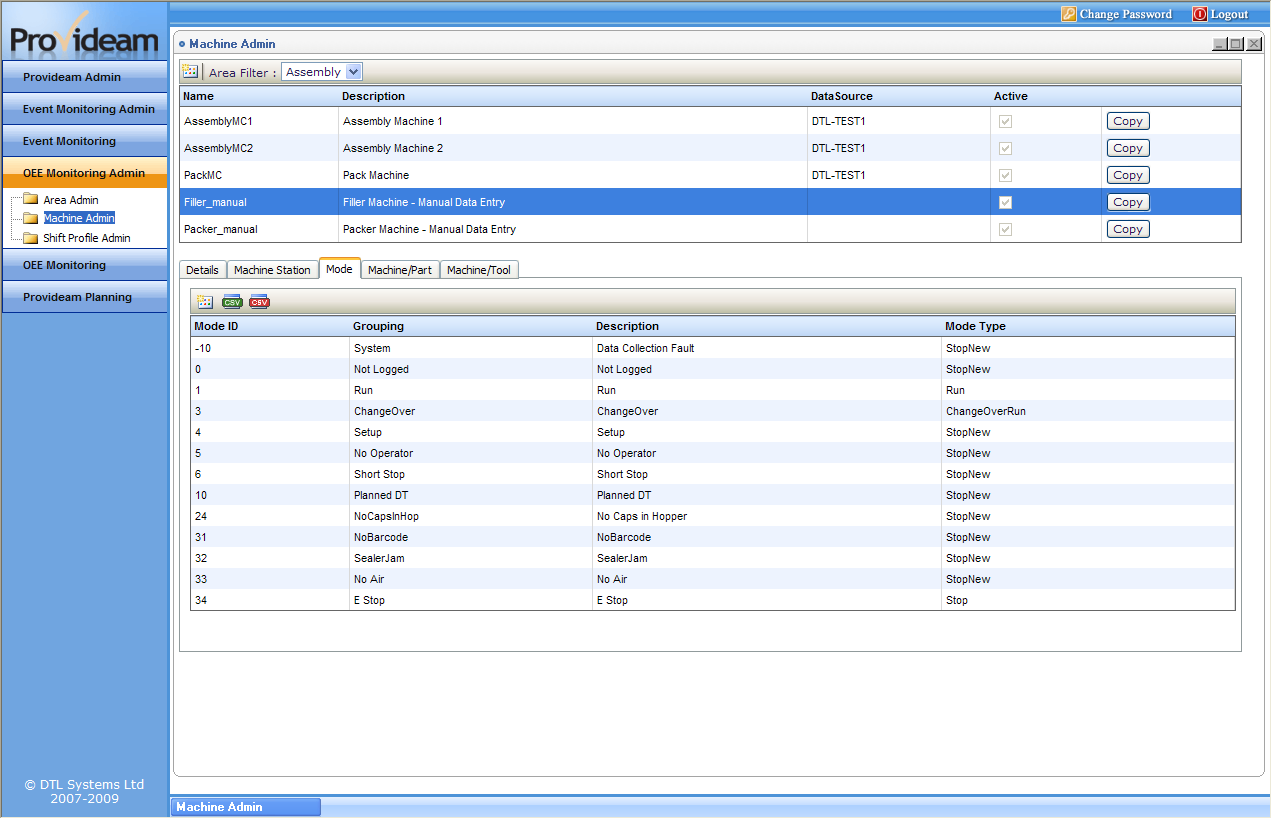 Fig: Filler Machine Downtime Modes
Above you will see the list of the Downtime Modes which we have created and can be assigned by the Operator to the Filler Machine.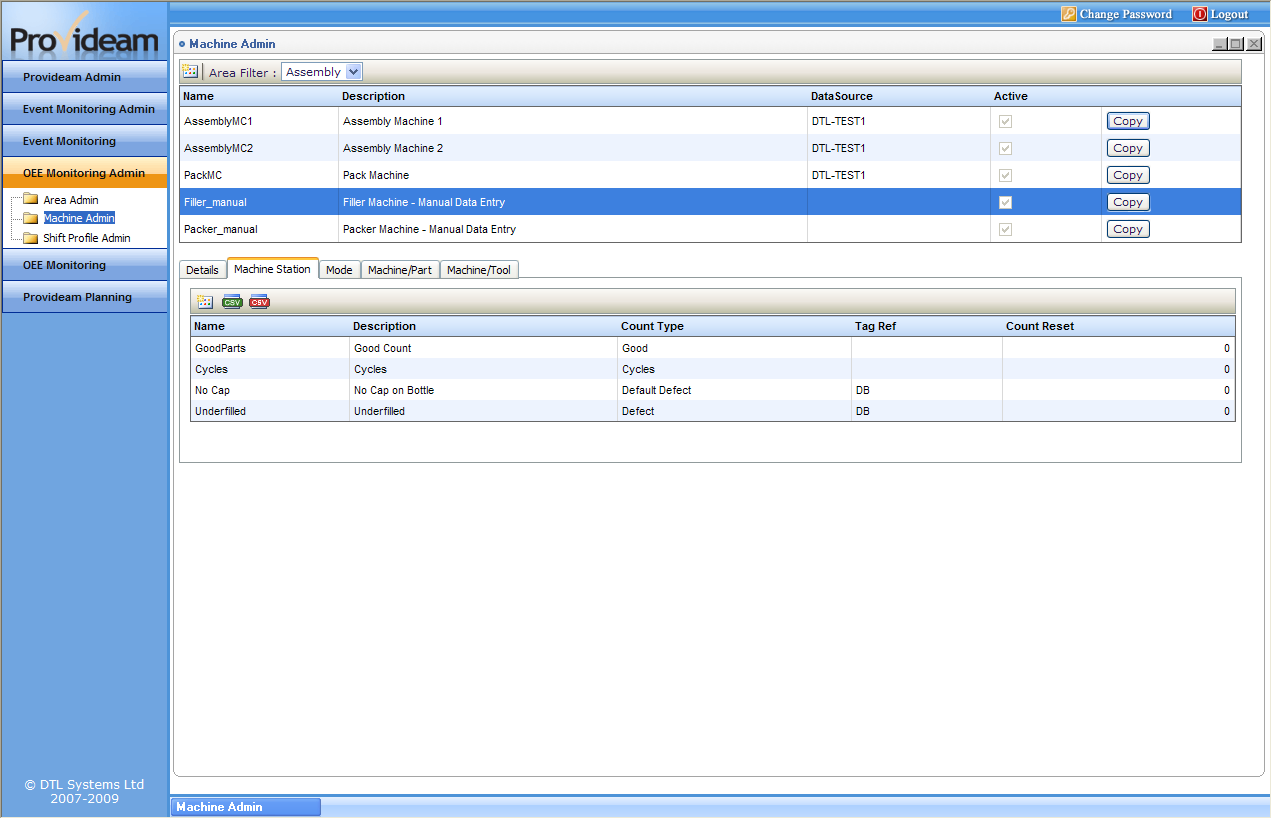 Fig: Filler Machine Yield Types
In the figure above we show the types of Yield Count we have defined for the Filler Machine.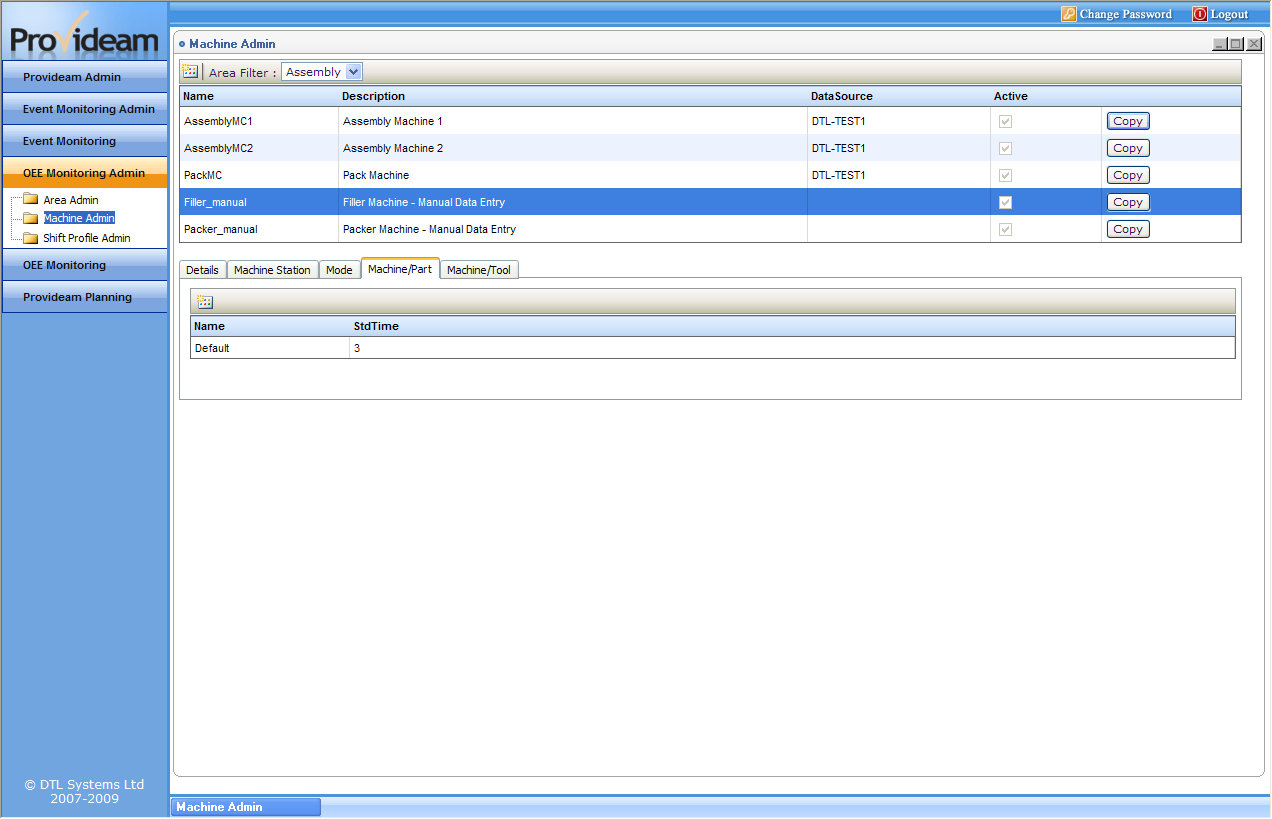 Fig: Filler Machine Part-Standard Time Relationships
The above figure shows that the Standard Time to produce 1 bottle on the Filler is 3 seconds (ie .05mins). In a more complex example with several Parts, we would have a record here with the Standard Time for each Part.
We are now ready to enter data.
1. Select the Manual Entry Page and click on the Add New Shift to create a Shift for the Filler Machine.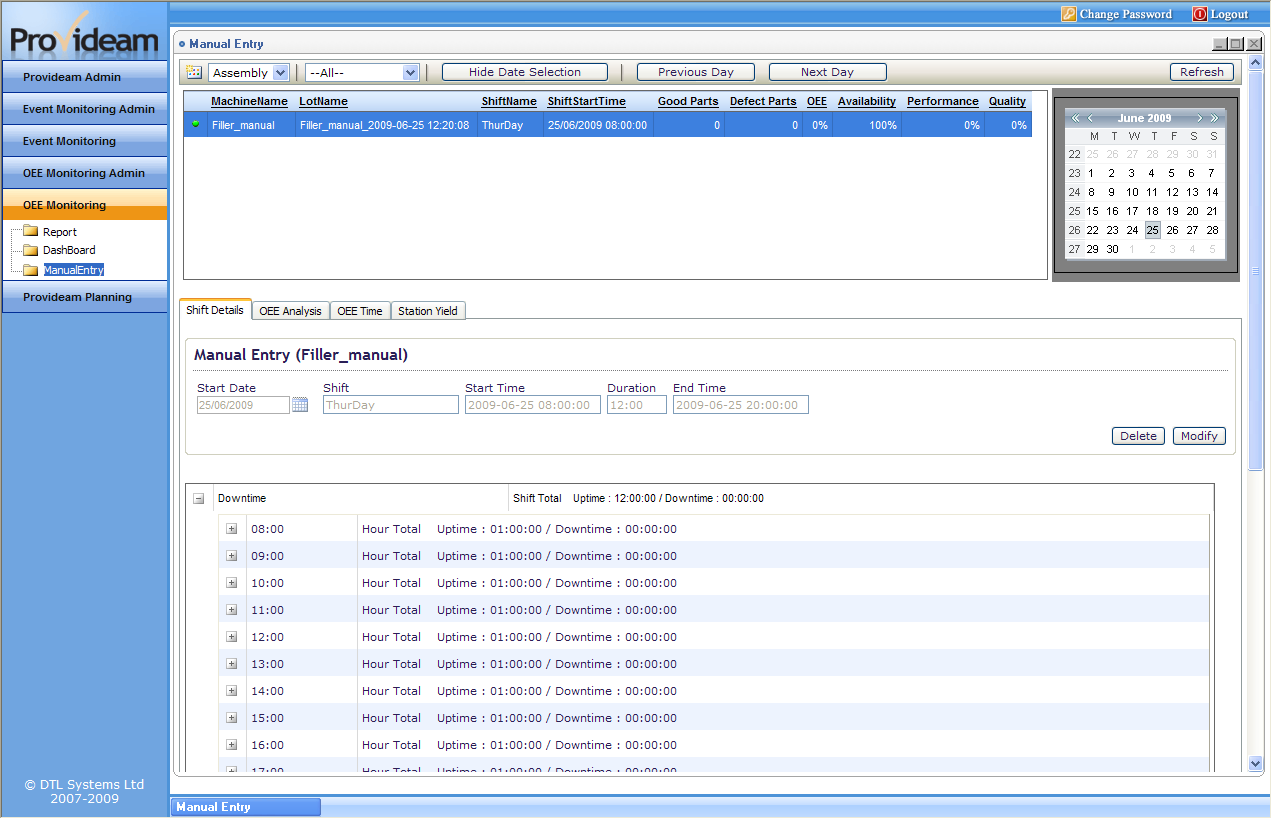 Fig: New Filler Machine Shift
2. Now add Planned and Unplanned Downtime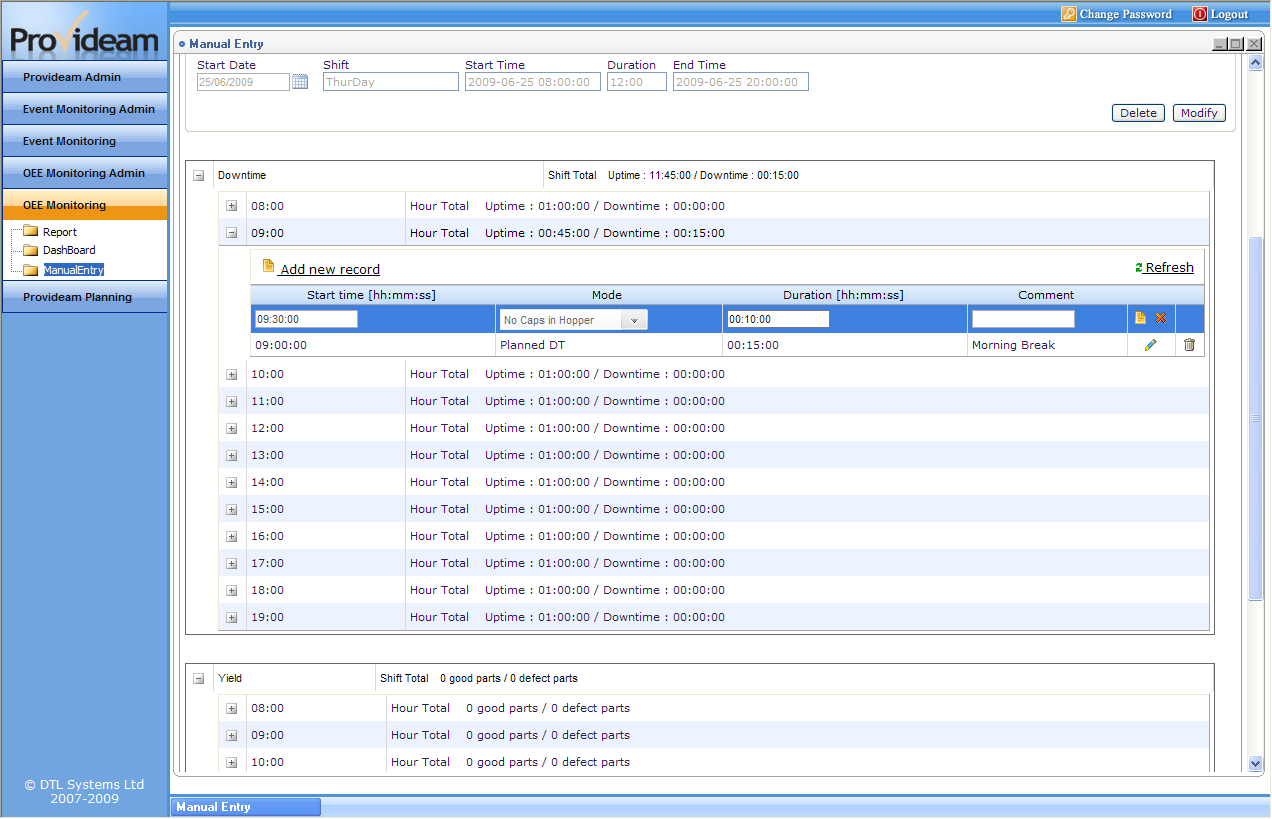 Fig: New Filler Shift – Add Downtime
3. Now add Yield Count Values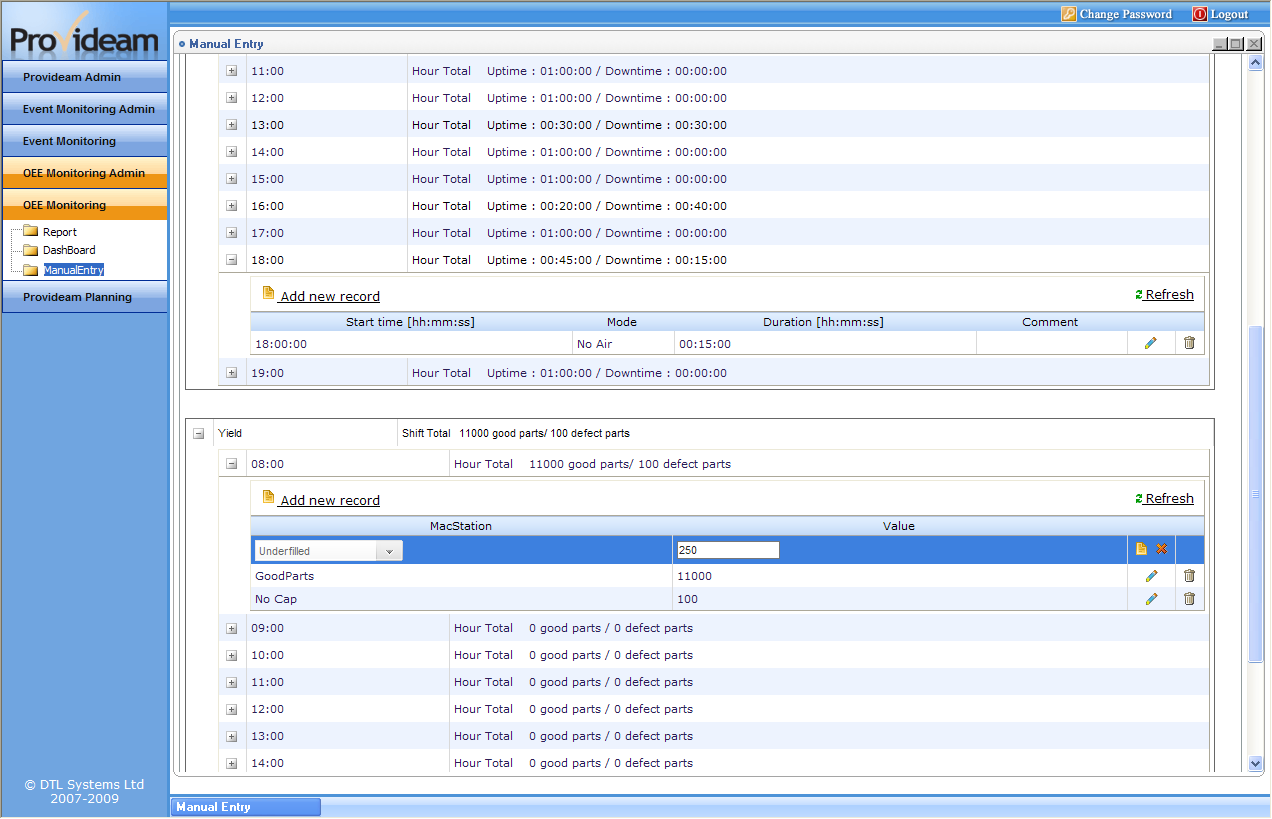 Fig: New Filler Shift – Add Yields
Note: You may add the yield values in one go, as I have done here, or you can distribute the yield over the shift hour by hour. If you enter the yield values hour by hour then you will be able to report on OEE hour by hour.
The data has now been entered for this shift and we can look at the results…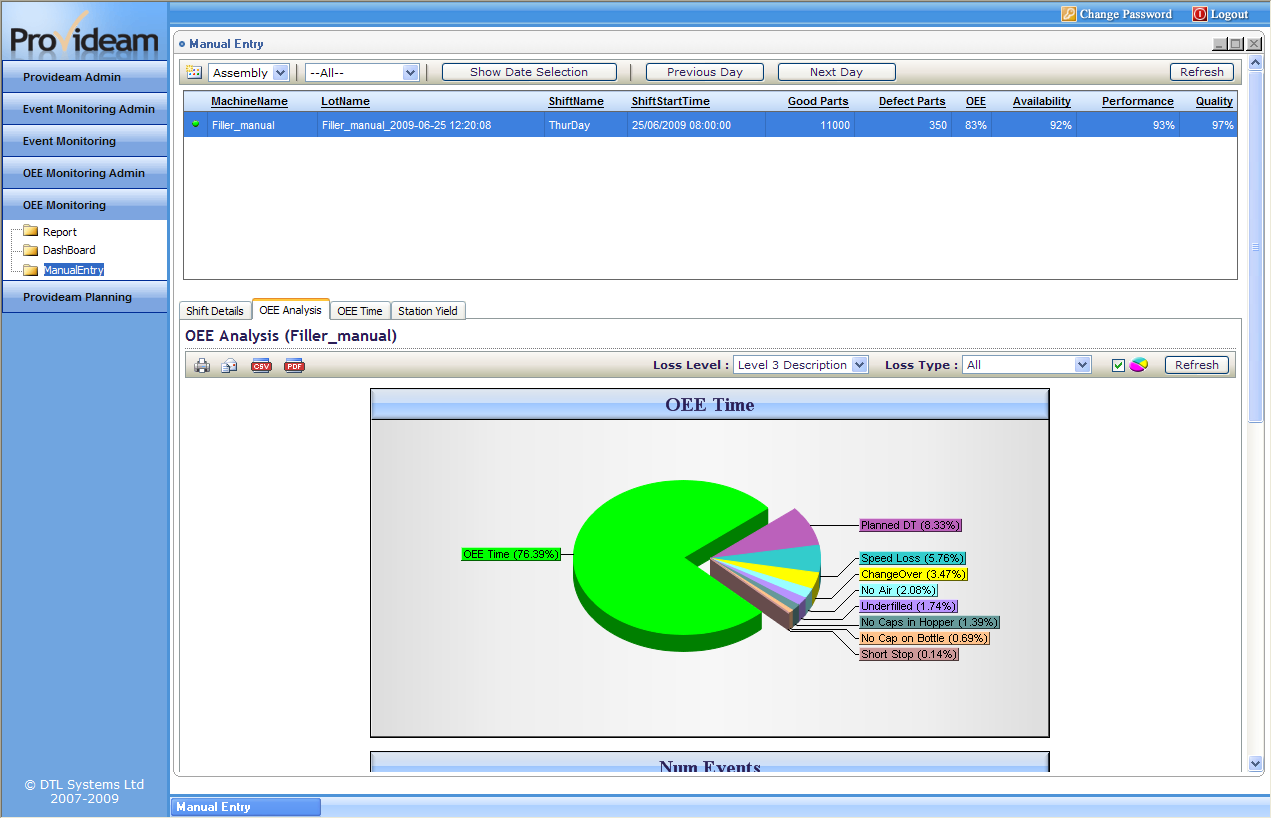 Fig: New ShiftOEE Analysis
Note: The top table shows the Good Parts, Defect Parts, OEE, Availability, Performance and Quality – same as in our example in the previous post. The Pie Chart shows OEE Time as 76.39%. This should not be confused with OEE. What this means is that OEE Time represented 76.39% of the Shift as a whole (ie 12hours) – you will notice that Planned DT is included in the Pie Chart. If we redrew the Pie Chart with out Planned DT, then our OEE Time % would be the same as our OEE %. In the sample reports created below we have excluded Planned DT from the Pie.
Report Examples:
Example 1: OEE Loss Pie and Table for OEE Level 1(ie losses grouped by Availability, Performance, Quality) – (NewShiftReportLvl1.pdf)

Example 2: OEE Loss PIE and Table for OEE Level 3(ie lowest level loss descriptions) – (NewShiftReportLvl3.pdf)

Example 3: Production Report showing various functions calculated for 3 Machines – (NewShiftProdReport.pdf).
Example 3 shows a combination of 'Automatic' and 'Manual Entry' machines. The data for AssemblyMC1 and AssemblyMC2 is captured automatically. The purpose of the example is simply to show that it is possible to have a standardised method of reporting across all areas of the plant.
That concludes this post. In our next post we will show a more complex example with several Part each with its own Standard Time.